What is Summer Slide?
"Summer slide" is the tendency for students to lose some of the achievement gains they made during the previous school year.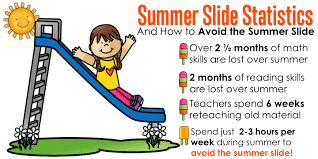 Let's work together to help stop the Summer Slide! You can access the summer project for your child's grade level for the 2022-2023 school year.
Paper copies of the projects will be sent home with students and available in the front office by request
Projects are due by 9/6/22 for a grade
Students who turn in their project the first week of school (August 15th-19th) will earn a dress down day!

Click on the link below to read more tips on preventing the Summer Slide!
https://www.publicschoolreview.com/blog/10-tips-for-avoiding-the-academic-summer-slide

Summer Projects are available to all incoming students to combat summer slide. They are submitted when students return to school in August. Below are the links for each grade level. Summer Projects will be required and count as a first quarter project grade.
*These will be submitted to your child's homeroom teacher.*